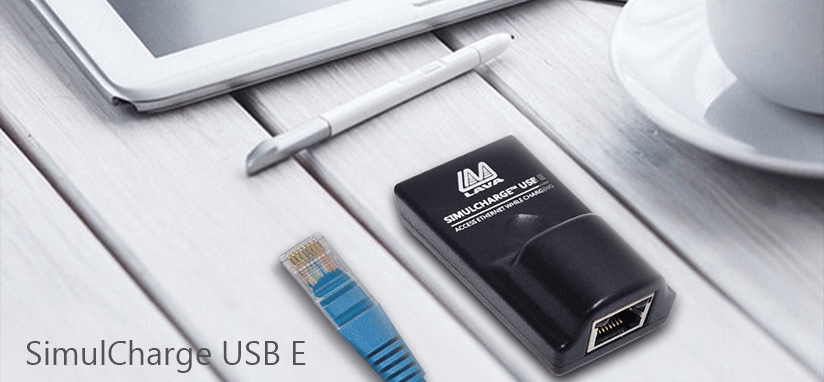 SimulCharge USB E
For use with select Samsung Tablets*
Quickly and easily connect to wired local area networks (LAN)
Charge your tablet while networking
Compact size
Sales Contact: sales@lavalink.com
Have a Question? Call: 1-800-241-5282 (US & Canada) or 1-416-674-5942
Why Use SimulCharge USB E?
Add even more functionality to your Samsung tablet.
Imagine this.
You'd like the option of watching a movie at home on your Samsung tablet over a secure and reliable wired connection instead of over Wi-Fi.
You are planning a trip abroad where the hotel isn't equipped with Wi-Fi but offers an Ethernet connection.
With the SimulCharge USB E you can do all of these things.
About SimulCharge USB E
SimulCharge USB E allows a Samsung Tablet to access a wired Ethernet-based network while simultaneously charging your tablet. The network access and charging feature is developed using technology that is unique to LAVA.
For additional convenience you have the option to use the SimulCharge USB E without the tablet's power supply using the tablet itself as a power source.
Faster and more reliable than WIFI
Get quick access to a wired Ethernet-based Local Area Network(LAN) using the SimulCharge USB E designed to work with select Samsung tablets.  When you connect the SimulCharge USB E adapter to your tablet, you'll experience a more reliable and secure connection than with wireless internet.
Simple and Easy to Use
It is quick and easy to connect SimulCharge USB E to your tablet. Simply plug the SimulCharge USB E with its 10/100 Fast Ethernet port into the USB port of your Samsung tablet and you can instantly connect to the network using a standard RJ45 Ethernet cable.
Compatibility
*SimulCharge USB E is compatible with a range of Samsung tablet models. Learn more: compatibility table